Coventry 2018

OPERATION GOLDEN TIGER - 50th ANNIVERSARY REUNION

Who would have thought that when the Singapore Dawnwatchers' Society (SDWS) was formed at 8 Security Company in Singapore fifty years ago, that it would still be active in 2018?

After a period of suspended animation, SDWS was resurrected in 1987 by five members over a few pints in the Tiger Inn, Haxby York, and apart from s short hiatus between 1990 and 1994, has been active ever since with reunions every two years in various nationwide and international locations. After the 2016 reunion in Liverpool, t'committee, consisting of President, Dave Wakelam, Vice President, Pete Pugh, Hon Sec, Nik Collett, and Property Member, Dave Peaks, decided that the 50
th
Anniversary should be celebrated in style. Normally, SDWS members attend functions in lounge suits and enjoy dinner, in the form of a carved buffet, and dancing on the Saturday evening of the reunion weekend. This time it was decided, after a straw poll of the membership, to alter the dress code to "black" tie format. Accordingly, Dave contacted the tie manufacturers in Preston who have produced several editions of the SDWS tie, and commissioned a commemorative bow tie for the occasion.

Having received a positive response from the 'Watchers, the search for a suitable venue began in Spring 2016. After extensive research, and visits to several possible venues, including overnight stays (at their own expense) by our secret shoppers Pete and Pam Pugh, and Dave and Sandie Peaks, the decision was made to hold the function at Coombe Abbey Hotel, Binley, near Coventry. Coombe Abbey is a former mediaeval priory and is a wonderful historic building set in seven acres of beautiful parkland, ideal for walking off hangovers!

Negotiations opened with the hotel when Pete and Pam Pugh, Dave and Pam Wakelam met up with the hotel event staff to discuss requirements (including Tiger Beer) and the format of the weekend. It was estimated that rooms would be required for 60-80 guests, and a quote obtained from the hotel. Once again, the negotiating team managed to do a terrific deal, and our fiscal catering manager, Nik Collett, was tasked with organising the payment scheme. The membership was duly informed and very quickly started to send in their returns. The final figure, including last-minute drop outs, was 82! After almost two years of preparation, all was deemed ready for H Hour, and after the usual motorway traffic delays, the start line was reached on Friday 06 April 2018!

The first item on the agenda was a meeting with Jade, our Event Co-ordinator, at which the final details were sorted out, and Jade was presented with a "Thank You" bouquet of flowers. And so to check-in, unpacking and into the bar for the first Tiger beer of the weekend. Some Dawnwatchers had already arrived, including Dave Mackney, who had flown in from Perth, Western Australia. It was Dave's first reunion since the Far East in 2000. At 1800 hours, t'committee decamped by taxi to Bombay Joe's, a local Indian restaurant for an 'O' Group with curry and ice-cold Cobra beer. 'O' Group complete, it was back to the hotel to meet up with old friends.

I won't bore you, dear reader, with a list of the usual suspects but I will mention those Dawnwatchers who are returning to the fold after being unable to attend for a while, and those who are first timers. Yes indeed, even after fifty years we are still attracting newbies! Friday saw Geoff and Julie Wightman surface for the first time since 1998 in Warwick, and Reg and Pauline Parsons make their debut. Also checking in on Friday were Graham Warburton who has flown in from his home in Hong Kong for every reunion since Falmouth in 2010, and Anne Rousell, attending in memory of her brother, Jim, the first President of SDWS. The bar was busy as ever as the Dawnwatchers started on the Tiger beer especially ordered in by Jade for the occasion. (More about the Tiger later.) Festivities continued into the small hours – again!

Saturday morning once again saw the stalwarts enjoy a hearty breakfast before disappearing for the day to places such as Coventry Cathedral and The National Arboretum. Meanwhile, t'committee and helpers set about preparing the room for the evening function by laying out the memorabilia table, the raffle prizes and the Singapore posters, (which are now starting to get a bit tatty as they have been in use since Eastbourne 1996). Having completed the set-up in conjunction with the Coombe Abbey team, led by Katie, it was back to the room to get ready for the evening which was to kick off at 1830 hours with a team photograph taken by Tom Wall.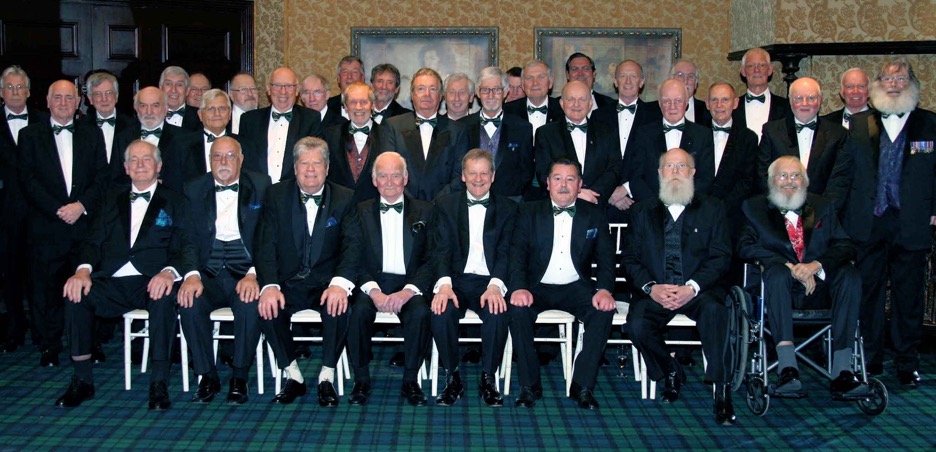 The remaining usual suspects had arrived as had returnees Rene (Acker) Dee and his partner, Adrienne, (Leeds 2002), Phil Llewellyn from South Africa, (Falmouth 2010), Paul and Linda Thain (Stratford-upon-Avon 2012); first timers Peter and Christine Lewis-Jones, and guests Col (Retd) Peter Gosney and his wife Karen, who had flown in from Cyprus in memory of Peter's father, Jim. We were also delighted to see four of our widows, Margaret Conway, Alison Smith, Pinky Palmer and Wendy Greenfield again. Attending in memory of his father, Mike Liley, was William Liley and his wife, Jude. Also present was our Guest of Honour, Col (Retd) Jon Murray and his wife, Jean. Jon was invited as, when in post as Corps Colonel, he had nominated SDWS for the award for distinguished service to the Corps in respect of the "Parcels for Afghanistan" appeal – organised by Dawnwatcher, Tony Byrne. Jon was presented with his SDWS bow-tie and took his place on the team photo.

After pre-dinner drinks and canapes, the assembled multitude went upstairs to the dining room in the High Court for dinner. Proceedings opened with a welcome speech by The President, during which Jean Murray was presented with a bouquet of flowers, and Jon Murray received his very own "Parcel for Afghanistan". Nik Collett gave a swift discourse on the major events which occurred in the year of our foundation, 1968, after which the Vice President presented "The Last Post" of departed members, especially those who have passed on since our 2016 reunion, John Landolt, Muriel Spanholtz, George Gibson and Mike Liley. Also remembered were those Dawnwatchers unable to attend due to illness which include Willie Lawson, Eric Fitzsimons, John Barnes and Jock Hunter. After reading "The Last Post" Pete asked all present to raise their glasses and drink a toast to "Absent Friends". Formalities concluded, dinner was served, and thoroughly enjoyed by all. Between courses, members of t'committee scuttled round the dining room selling raffle tickets. SDWS being self-supporting, funds raised by the raffle are used to fund things like bow ties, place gifts for our ladies, DJs etc. All prizes are donated by members, and this year forty prizes appeared on the table. The main prize was one night's bed and breakfast, donated by Coombe Abbey, and was won by Alison Smith. The membership raised £570.00 with their generous purchase of tickets! Nik denied that he'd already booked a Caribbean cruise for him and Chris………

After dinner, the DJ entertained us with a selection of mostly '60s music downstairs in the Centre Court. Those who wished to swap stories were able to remain upstairs in the dining room, and there were those, of course, who got no further than the bar. Meanwhile, around one table the ancient Tiger can game was played by the more robust members (including Jon Murray). The rules of the game are quite simple, but decorum prevents me from saying any more than that other the best players of the game usually come from the Liverpool and Glasgow areas. Alas, at midnight the bar closed and the DJ played the last slowie, so the hard core moved on to the Residents' Lounge where the carousing continued until approximately 0500 hours! Once again, the honour? of Last Lady Standing went jointly to Alison Smith and Pinky Palmer.

And so to Sunday and the aftermath. Thanks to a combination of illness, Tiger and Jameson, the President was absent from breakfast for the first time on an SDWS Sunday ever, but plenty of 'Watchers had the fortitude to make it before check out. Lunchtime saw the start of another Tiger session in the Resident's lounge, with John Norman firmly ensconced. Coombe Abbey is famous locally for its afternoon teas, so Tom and Dot Nutt were joined by Pete and Pam Pugh and Pam and Dave Wakelam in the restaurant for a real treat. Several other couples were also staying on Sunday and after dinner a more civilised approach to Dawnwatching was taken by means of an early night. The last Tiger beer of the stock specially ordered in for the occasion was served at 2000 hours to Dave Wakelam who ever so generously donated it to Pete Pugh, while Dave suffered yet another G&T. Greater love hath no man for his fellow Dawnwatcher than he gives away his last Tiger beer!

And that, dear reader, sums up the bond between these grizzled veterans. Roll on the next reunion, usually scheduled for two years hence, but Nik has a plan……. Watch this space!

[Dave Wakelam]