The Rose and The Laurel - 1965
HEADQUARTERS INTELLIGENCE CORPS (FARELF)
The year has seen a few changes in the Headquarters' staff- Sgt
D Northam
left in January and was replaced by S/Sgt
A E Huntbach
, but even now the latter is preparing to take over the Penang detachment of the Counter-Intelligence Platoon (Malaya). Our surplus, L/Cpl
Payne
, has left us for 21 Intelligence Platoon (Bde) in Kuching and we currently have the services of L/Cpl
Mackney
from 3 Cdo Bde Intelligence Platoon.

Our courses schedule has, miraculously enough, worked out with only the minimum of hitches and at the time of writing we are about to embark on Serial 23, the AII trade Course and Test. As this is within forty-eight hours of finishing a South Vietnamese Army course our candidates will be lucky if they don't receive their précis in that rather staccato and heavily accented language.

Somewhat reluctantly the headquarters moved in May from the quiet country estate-like atmosphere of Woodstock drive to the higher and more bustling REME Admin Unit on Kent Ridge. However, after crying bitterly in the forecourt of Headquarters Singapore Area, we are now in better accommodation complete with an air-conditioned lecture room, and after some quite hard work, a very pleasant garden

The highlight of the year has probably been the Intelligence Corps ball, held on 24
th
July in the garden of the new Headquarters which also boasts an open air dance floor and a bandstand. About two hundred and fifty guests and members of the Corps attended in a son et lumiere setting which self-help and the assistance of the Royal Engineers and the band of the Malaysia Infantry Regiment made for a very attractive and pleasant evening.

The next social function at the headquarters will be on 13th November when we are arranging a Saturday lunch time drinks party on the occasion of the visit of Chief of Staff of the Royal Thai Army. WO2
G S Munro
departs in December for leave and BAOR. Sgt
D I W Madgewick
replaces S/Sgt
A E Huntbach
in November after a gap of about a month and WO1
D Blackburn
arrives in January. Major
G T McGowan
also leaves next year and so by the next time this contribution is written the Headquarters will have undergone a complete change of staff, maybe also in location if by then the proposed Intelligence Centre (FARELF) has been built.

2 INTELLIGENCE COMPANY
To list accurately all the personnel who have served in 2 Intelligence Company during the past year in Borneo would test severely the memory, the records, the printer, and most of all the reader. Most of the names are accounted for, although there are rumours that several SNCOs are still running wild disguised as head-hunters. ULU NCOs insist, however, that the only head-hunters to be found are at Company HQ in Labuan!
"
Dr Steinitz, I presume!" "Ah Dr Thompson." (Apologies to Stanley)

The Company is rigidly divided into "Them" and "Us". "Them" are the 'Ulu NCOs 'who are scattered liberally over 1,000 miles of jungle absorbing local colour and imbibing local tuak, living in varying degrees of comfort from a "basha" with mosquito nets and Dyaks for company (this is a SNCO) to a four-bedroomed air-conditioned house complete with amah and cocktail cabinet ( this is a JNCO!). All of "Them" are working very hard and doing the Corps great credit.

Notable among "Them" this year have been S/Sgt
Ralph Thompson
and Sgt
Les Stephenson
who both gained the British Empire Medal (BEM). Thanks to S/Sgt
Ralph Thompson
there is now an aboriginal "knees up Mother Brown" dance craze in Borneo. It is suggested that his BEM was awarded for keeping the Beatles out of Borneo – but it is believed that Sgt
Stephenson
started this rumour so it is possibly not strictly true.

Other events among "Them" have been two marriages, Sgt
Fred Littlejohn
RCT (locally) and Sgt
Bob Finlayson
(UK). Both have left Borneo and returned to more connubial climes

By a freak of chance only previously seen in French comedy a "Half-Them" (half because he lives in a civilised town), a certain Pte
Middleton
, Intelligence Corps, arrived in Kuching to be greeted with open arms by the Resident, the SB, and the local European dignitaries as the new MIO! Pte
Middleton
did nothing to dispel this misconception and his false paradise was only shattered by the arrival of the real MIO some weeks after! European life in Kuching took its biggest blow since 1942! Pte
Middleton
took to flying.

While "Them" are scattered around Borneo, "Us", Company HQ and supporting elements of JHQ, are all huddled together in a beautiful hot tropical island called Labuan, where the cost of living has risen 100 per cent in two years. Beautiful beaches around, but not a bikini to decorate them. The caption "Put a Tiger in your tank" has really caught on here, but alas not to the profit of ESSO. There is little glamour working in this location, but stability, showers, and the occasional air-conditioned room give some degree of compensation. The work here is interesting and there is plenty of it, and the effort and skill which everyone is putting in is really heartening.

Stalwarts in "Us" this year have been the OC, Capt
Jenkins
, the most travelled man in Borneo, who left for the UK in July with overweight baggage containing, it is believed, black-bound volumes of decidedly interesting contacts and addresses. S/Sgt
Les Ledger
of Ops Room fame, Cpl
Ron Grey
, whose only escape from unit admin is to dream of Newcastle beer, Dvr
'Geordie' Storey
who does likewise, S/Sgt
Chris Edwards
,
who must own the most luxuriously padded stereoscope in the business, the courageous Pte
Ted Murphy
, who has volunteered to serve two and a half years in Borneo, and Lt
McMullen
, "confidant" and bodyguard to the OC.

In July Capt
Jenkins
handed over everything bar his address book to Capt
Althorp
, who is now busy trying to beat his predecessor's record number of flying hours.

Achievements in Labuan, apart from work of course, have been as follows: L/Cpl
Brian Mole
's domination of the sailing fraternity, until it was politely requested by OC Troops, himself a keen sailor, to send him "up-country", and the amazing ability of Lt
McMullen
and Cpl
Sam Parr
to play 80 minutes of tropical rugby without collapsing, at least during the game! Capt
Althorp
soon joined the cricket set, but after one game played under the noonday sun, has decided to bowl very slow spinners off a one yard run, and field at long leg, conveniently close to ice-cold refreshment.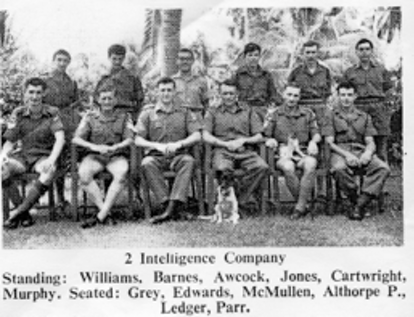 Separated, but not forgotten, from both "Them" and "Us", is the interrogation team of Capt
Crawford
,
who at the time of writing are on R & R "leave" in Singapore and have been for several months. The rest of us are all very envious of them and are devising schemes to draw them into the celibacy of Borneo. But these chaps (S/Sgt
Gardner
is there!) certainly know how to resist!

A Corps Day celebration was held on a limited scale in conjunction with 5 Int Pl in Brunei. It consisted of Chinese food, Far East beer, UK conversation, Maresfield songs and Malaysian hangovers. Old stagers in the Far East were easily recognisable as only they had the ability with chopsticks necessary to ensure an adequate amount to eat. Newcomers have to learn this art rapidly or else they go hungry. Lt
Langstaff
and his platoon obviously had this art, and the only thing HQ 2 Int Company, shared equally with them was the total cost of the meal! But nevertheless it was a fine celebration.
3 COMMANDO BRIGADE INTELLIGENCE PLATOON
The uneasy situation in the Far East and the diverse commitments of Commando Brigade do not allow many dull moments.

Early in January, complete with hangovers, we found ourselves en route to Sibu to assume, under the pseudonym of Midwest brigade, responsibility for the Second and Third Divisions of Sarawak. Sibu: Monsoon season; some 20,00 Fu Chow Chinese, a dour, humourless race, rarely found anywhere except Sibu and China, and despised even by the Chinese; every conceivable common disease prevalent plus one or two peculiar to Sibu; to the west rivers, swamps and the sea; to the east vast areas of virgin jungle; to the south, of course, Indonesian Borneo. Within a week or two Cpls Shilcock, Morrison and Kitching were dispatched as FIOs to odd corners of the Brigade area, whilst S/Sgt Jackson, having proved conclusively that on small-scale air photographs longhouses appear short and short houses disappear, managed a staple diet of rice and rum, to spread the gospel of air photography to 1/10 Gurkha Rifles. Meanwhile, with invaluable assistance from Gurkha parachute Company, Lt Tantum and L/Cpl Parr were spreading their own peculiar gospel to the Punans, a nomadic and little known people in the extreme eastern end of the Third Division. It all finished too soon and by the end of March we were back in Singapore, leaving two members behind to hand over to 19 Brigade who stepped neatly into our shoes even if, with their (to us) luxury of manpower, they did find it a tight fit.

Exercises have of course been a fairly heavy commitment. The first was designed to test Singapore area defences against Commando-type raids, the platoon having the task of conceiving and effecting a deception plan to cover the nefarious (and highly successful!) activities of other Brigade units. It was a diverting week but we should have liked to employ, on a strictly "NODUF" basis, similar tactics on Command Pay Office to extract the travel claims that were built up on the exercise. Tougher nuts they than any walled and wired bastion of security! Remaining exercises were to practice amphibious operations culminating in "Windy Weather", one of the largest amphibious exercises ever held in the theatre. Fact belied the name and the peaceful setting of the north-east coast of Malaya was destroyed one June morning by the appearance off-shore of Commando carriers, aircraft carriers, and a host of ships, much to the toothless astonishment of old Malay fishermen who hadn't seen the like since the Japanese landed there in 1941.

Throughout the year there has been at least one member of the Platoon in Borneo with one or other of the Brigade units who operate there independently of Brigade Headquarters. Cpl Courage returned in may after a fairly hard spell as FIO with 42 Commando in Sabah, Cpl Morrison is with 40 Commando at the moment, and S/Sgt Jackson recently returned from an attachment to No 1 Section, Royal Marines. He is still drying out. Also under the auspices of No 1 section, and as a change from strap-hanging in helicopters, Lt Tantum, Cpl Morrison and our intrepid sapper, L/Cpl Telfer, carried out the first of a proposed series of water parachute jumps inn Johore Straits. The poetic scene – dropping out of a tropical dawn into the tropical seas – is only attractive in retrospect and offered little consolation at the time; all three showed a marked reluctance to release their parachutes before entering the water. (Instructor in the doorway: "I can issue you with shark repellent tablets if you like, but it's no use taking them; the crocodiles have eaten all the sharks!" – watery smile).

Remaining time seems to have been occupied with regular alerts to move to the mainland of Malaya to counter possible Indonesian incursion. It would be interesting to be on the receiving end of an amphibious operation for once…..

It has been then a full and interesting year. We are at full strength and the Corp badge is well known and accepted in Commando Brigade. But in Singapore one needs a change of air. Welcome news therefore that political clearance has been given for members of the Platoon to mount a mountain trekking expedition to Nepal in November. There, we are told, may be found the ancient gods, "untouchables", and warlike tribesmen of an almost medieval civilisation. Plus ca change…..

Incoming:
S/Sgt Jackson, Cpls Courage, Knight, Shilcock, Morrison, L/Cpls Kitching, Parr, Mackney.

Outgoing:
S/Sgt Steinitz, L/Cpl Parr.


ROYALS CYPHER, OR FOR BLUE, READ GREEN By L/Cpl D KITCHING

Accustoming oneself to a whole new code of slang is not as simple an undertaking as it may appear at first sight. The snares, nevertheless, are manifold and not until one has committed a social boob or two, and exposed one's shocking greenness by, for example, going out rather than "ashore", to buy a present instead of a "rabbit", does one begin to appreciate the serious implications of failing to acquaint oneself with the finer points of "bootneck" vernacular.

My first encounter with this obscure dialect was at the Infantry Training Centre RM, at Lympstone, Devon, where, I was previously assured, crude Intelligence Corps clay could be moulded into snarling, fighting automatons. We were four in number and had hardly settled ourselves meekly into the quietest corner of the quietest cabin (not room) on the camp when a gruff Colour-Sergeant materialised

"Yer 'eads workin'alright?" he enquired. Four heads swivelled, not a little suspiciously.
"Yes thanks, Staff –er…"
"Colours," he boomed indignantly. "Turn toat 0800 hours rigged for PT. Got it?"
"Aye, Aye Colours," replied self with a smirk.
"Don't aye aye me lad. This ain't a Grey Funnel liner. Now just get switched on, all of yer, and stay switched on. Savvy?"
With Cpl Knight timidly groping for the light switch, he stormed out. "Bloody Pongoes!"
Scene two takes place the following afternoon, with everyone dutifully rigged for PT:
QMSI: "Right then, once you're up there, sling your toggle over the line, grip it firmly with both hands then off you go, Got that weighed off?"
Self: "What's my toggle Q?"
QMSI: "Rant"
Later at Stand Easy, over a quiet "goffer", a "skins" Royal tries to help.
"Fancy a run ashore tonight after we secure?"
"Eh?"
"A run ashore, you know. We could catch the liberty boat, have a few wets, then see what's doing. If we get the last ferry back we'll be on board again by half eleven."
"Yes, but I'm afraid we've been told to … clear lower decks, I think it's called, at 0730 hours and if we're going to get all the beds and things moved out we'll have to do it tonight."
"Move Beds? … what are you on about?" And with that he gave up in disgust. "What you lot need is some dog-watch instruction," he said.
Sigh!

Now, may months and countless faux pas later we are speaking quite passable Marine-ese. Despite this though, new expressions, new verbicides, present themselves regularly to confound us. A recent addition to my own vocabulary was the term "a green rub", which is used to describe any instance of tough luck. It comes from a golf term "a rub of the green", though by what devious channels it has found its way into Marine slang is anybody's guess. "Sandy bottoms", which originally was an invitation to finish off someone's "tot", is now used for any goffer. Its derivation is fairly obvious if you think of draught. "Sippers" or "gulpers" may be alternatively offered.

In the galley (never the "cookhouse") it is often possible to see galley slaves at work. (Frightful pictures of men balled and chained cringing from the cat-o'-nine-tails.) I once heard the duty chef (never call them "cooks") tell one of these fatigue men to "nip down to the buffer store and draw up a bar of pussers hard or two." For translation see glossary.

Numerous other colourful words and expressions, the majority of which are so colourful that they may not be recounted here, festoon colloquial Marine-ese. Many, of course, are known outside our maritime forces, but therein they are applied in every day use and are often religiously applied.

Such has been the exasperation among the initiates of 3 Intelligence Platoon at times that more than one person has commenced work on a phrase book, and strong suggestions have been submitted to the effect that future commando courses include a few lessons on naval and marine idiom, purely for the benefit of the uninformed pongees.

GLOSSARY OF TERMS
Ashore: Anywhere not "on board," i.e. on the outside of the camp boundary. The camp need not be adjacent to the "oggin" (sea). It would be quite immaterial if it were in the middle of the Sahara. The terms would still apply. If an enjoyable time is had ashore it's called a "good run". "Onkers" (Hong Kong) and "Mombers" (Mombasa) are good runs.
Rabbitt: A gift. A rabbit run is a present-buying run a shore.
Bootneck: A Royal marine.
Heads: Lavatories.
Turn to: To commence duty.
Pongo: Term used to describe Army personnel.
Toggle: A small stout piece of rope with two handles.
Goffer: A soft drink.
Skins: Applied to anyone particularly young.
Secure: To go off duty, or stop work.
Liberty Boat: A means of conveyance for taking the lads ashore.
Ferry: A regular liberty boat.
Clear lower decks: To parade.
Dog-watch instruction: Spare time study.
Buffer: Person employed in a QM store.
Pussers: Applied to any "issue" item. 'Pussers Hard' is issue soap.

2 INTELLIGENCE PLATOON (BRIGADE)
The tempo of confrontation slowed down noticeably with the arrival of 2 Int Pl in Sarawak in March of this year after three weeks of acclimatisation in Singapore. Doubtful in the first place of surviving the perilous 550-mile flight over the shark infested South China Sea, even more dubious thoughts were conjured up about the nature of our destination, Sibu.

Yes, Sibu, pearl of the Orient, the "Brighton of Sarawak", city of many colours (though mainly brown and green), and home to 27,000 Chinese, Ibans and other nondescript.

One quickly became aware of the fact that Sibu was some way from the border, and that far from living in a slit trench for nine months we found ourselves in a somewhat vast block of flats with the rest of HQ 19 Inf Bde Gp. By a process of agitation and infiltration the Int Pl has now acquired an array of offices for itself, considerably superior to the accommodation available in UK.

S/Sgt Hughes and Cpl Atkins are our two indefatigable collators, whilst Sgt O'Neill (extracted with great pain from JARIC) provides the PI support. Equipped with cloak, lightweight, tropical and air portable dagger, Sgt Slough runs the CI element in the absence of S/Sgt Heredge on a PI course in UK. Meanwhile Cpl Little has become our main man in Sarikei, finding himself in the not unfamiliar role of an aide to SB. Pass Issue is in the hands of Pte Lindborg, who also manages unit admin in between boxing. As for our RE complement, we have just lost L/Cpl O'Shaughnessy after a long period as draughtsman and blarney specialist. It is hoped that one, Spr Long, will one day arrive to take his place. In addition Cpl Batchelor has been assigned to run the map and air chart store.

All members of the Pl have engaged in operational "excursions" to the remoter parts of the Brigade area and a liaison link has been firmly established with our brethren of 21 Int Pl in neighbouring Kuching.

Although we travel mainly by light aircraft and helicopter, a lot of movement has to be undertaken by longboat. However, rumours that we are entering for the Shortt Trophy with blow pipes, or that Pte Lindborg now has a bone through his nose are entirely unfounded.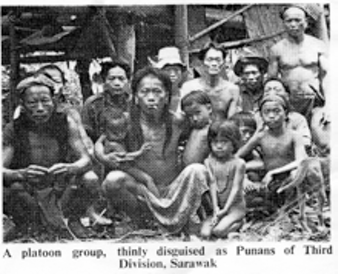 CI PLATOON (MALAYA)
It has been another interesting and active year in Malaya, and we have been kept quite busy by Indonesian sea-borne landings, and sabotage incidents. The number of infiltrators accounted for has increased steadily. The year has passed quickly, probably because of the lack of seasons and the fact that the monsoon is quite unpredictable. It is already a year since the Inspector's visit, when he met all ranks, and presented S/Sgt Tucker with the LS & GC medal. Shortly afterwards S/Sgt Tucker finished his already over-extended tour and closed down the detachments at Ipoh. When S/Sgt Wood arrived he moved straight into the new detachment on the delightful tropical island of Penang. Penang is an interesting spot, for any of you who have not yet managed to get there, it is two hundred miles north of the Platoon HQ and the detachment covers a large area. Cpl Watson, who set up shop here, left for Borneo and handed over to Cpl Rice.

There is another detachment in Kluang, one hundred and fifty miles south of the HQ. S/Sgt Gosney, who arrived there from Borneo last year, describes his location as situated in the centre of a vast metropolis consisting of three bars, three hotels and a kampong. However, the garrison is less than two hours from Singapore, and for those whose sport is shooting there are usually flying foxes and Indonesians in the area. Cpl Devoti, who came from Borneo, took over from Cpl Grey in Kluang, the latter being dispatched to terrorise the inhabitants of Labuan.

The Platoon HQ and our other detachment is still located in Seremban, which is forty-five miles from Kuala Lumpur and twenty miles from the beaches of Port Dickson, on the west coast. Port Dickson is an excellent spot for swimming and also for water ski-ing, as several of us have discovered. S/Sgt Antcliff, who runs the Seremban CI detachment, is becoming quite accomplished on the skis, when he is not playing badminton. There is also sailing at Port Dickson for those who prefer this slower form of transport. The other member of the detachment who keeps the Corps flag flying in Seremban is Cpl Macmurphy, who took over from Cpl Cooke in July. Cpl Cooke has now returned to UK prior to his move to BAOR.

The Platoon HQ in Seremban consists of four military personnel; the OC, Major R K Collins, WO2 Bell and Sgt Stone, both of whom came from CI Platoon, Singapore, to whom we are everlastingly grateful, and Cpl Woodhouse, who joined us in may from Maresfield. WO2 Bell took over from WO2 Crane in January. "Took over" is perhaps the wrong expression – they met in Singapore for an hour or two. At this stage we must mention that over half of our total strength is made up of civilian personnel, of which four are young ladies, for the information of those who are interested in these sort of statistics.

Corps Day was celebrated this year with a Chinese dinner in the Carlton Hotel, Seremban, followed by a party in the Sergeants' Mess. There were over thirty people present, including members of the unit from the out-flung detachments, our wives, and most of the civilian staff. It was a most successful party, and an interesting experience to see so many of our usually dispersed members together for once. The two members of the unit who were able to attend the Corps Ball in Singapore the following week thoroughly enjoyed the party there, and the change of scenery.

In July we challenged the local Special Branch to a cricket match, aided by our comrades from the RMP. After duly exchanging scrolls we managed to lose the match despite a valiant effort by Cpl Woodhouse, who unfortunately was unable to entirely compensate for those of us who were out for a duck. A certain amount of liquid refreshment flowed, and our relations with the victorious local police have never been better. A return match of indoor games in the Police Mess is now awaited.

The personnel of the Platoon have now completed jungle training, including L/Cpl Wakelam and Pte Jacobs, who have been engaged on Op Int duties with HQ Malaya Area. Several members of the platoon were pleasantly engaged in one of Major McGowan's CI exercises in Kuala Lumpur.

We have had a number of visitors during the year, including the Army Commander, Lt-Gen Sir A Jolly KCB, CBE, DSO, who called in both at Seremban and Penang, and the Area Commander, who visited the Kluang detachment. We were also very pleased to welcome Major Perrett-Young from the SMI.

In conclusion, to any readers who feel that our travelogue includes more than a hint of publicity, we would point out that this is not entirely coincidental. Those interested in coming to this tropical paradise should write giving details of age, experience and sex. To those of you who have already got your names on the list, we look forward to welcoming you.