The Rose and The Laurel - 1969
GROUP HEADQUARTERS
In spite of almost a complete change of personalities, work in the cool heights of Alexandra Park continues at a hectic pace matched only by the efforts of the unfortunate few incarcerated in the ratten-hutted luxury of Tanglin. Two key changes occurred shortly before writing these notes when Lt Col
Goss
handed over to Lt Col
Parritt,
MBE, and Capt
Fitzgerald
arrived to take over as Adjutant vice Capt
Lewis-Jones
.

Other changes have been a new RSM – WO1
Wilcox
, S/Sgt
Courage
as Training Staff-Sergeant allowing WO2
Hughes
to go to 8 Company as CSM. Cpl
Ellam
replaced L/Cpl (now Cpl)
Fitzsimons
and L/Cpl
Gregory
filled the gap between Cpl
Ellis
– mentioned in our last notes and Cpl
Fitzsimons
.

Sgt
Pluck
RAOC now solidly fills the Chief Clerk's chair and Cpl
Evans
relieved Cpl
Farr
RAOC. Cpl
Evans
departed, just at the time he had cut the mail-run to one and a half hours, to ease temporarily the clerical shortage at HQ FARELF. Sgt
Stanton
, our ex-Chief Clerk, who thought he was going to have a long easy handover, has been caught for Cpl
Evans
' job at Group until he leaves hot, humid Singapore on promotion to S/Sgt, for cold, dry Norway.

Even the draughtsmen have changed. L/Cpl
Wright
RE, took a local discharge and now resides in Australia; Spr
Firman
ably copes in his place.

Security Ops have seen WO2
Guthrie
go to be replaced by S/Sgt
Thomas
, who is annotated on the Adjutant's Manning List as "surplus". Cpl
Ellis
was replaced by Cpl
Bushell
who in turn was replaced by Cpl
Thain
from the sweaty turmoil of Kowloon. WO2
Young i
s departing shortly – onwards and upwards – we wish him well in his future career.

We still have some stalwarts, notably the 2 i/c – Maj
Collyer
, who arrived as predicted, before the last notes were printed, and L/Bdr
Grevitt
RA, the CO's driver, who is currently threatened with a BAOR posting. Dvr
Khoo
has a minibus to drive again after making do with an FFR Land Rover for months. The redoubtable
Theo
still delivers great quantities of gunfire tea and coffee to salve dusty palates, and does so lately with an even more willing 14-carat smile than usual.

Additions not caused by departures were Mrs Jo Ellam and Mrs Jean Firman – congratulations to both couples; a son for L/Bdr
Grevitt
and a daughter for WO2
Guthrie
– congratulations to the parents.

Mrs Joan Moore, Mrs Mary Treloar and Mrs Heather Allison have left and we now have Mrs Sally Scrutton, Mrs Dinah Tobias and Mrs Diane Jones.

A mention of Corps personalities not in the Group but who are employed in the area; Maj
Davies
did not get his posting as CI Officer, St Andrews; his successor (after an incredible amount of inter-tour leave) as GSO2 Sy, Maj
S
tevens
, is no stranger to these parts and is again teaching Chinese and haunting roadside temples. Capt
Edwards
is still heard occasionally on the telephone when he is not busy organising water skiing. Capt
Hook
fills a staff appointment away from the world of Intelligence and Security, although one of the first letters he signed was of benefit to the Group. He is also the proud possessor of one of the oldest cars in the Far East. Sgt
Bell
is going cross-eyed at JARIC (FE), S/Sgt
Dawes
having departed for the UK, and Cpl
Page
has passed through en route for a more exciting city.

The silver coffee service from a nearby Mess and Maj
Collyer
's coffee cups have been used several times, notably on the visits by the Army Commander, Lt-Gen Sir Peter
Hunt
, KCB, DSO, OBE, our Inspector, the BGS, Brig R E
Worsley
, OBE and Brig D J
Wilson
, OBE, MC, the BGS (Int) DIS, MOD.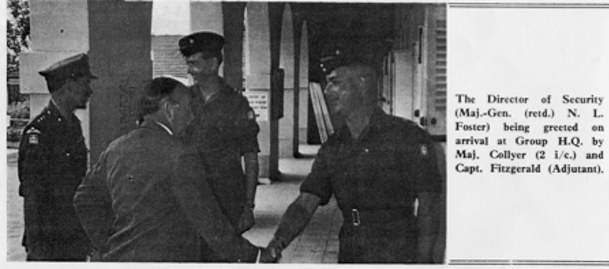 The Group HQ, in conjunction with 8 Coy, has had a successful sporting period. Apart from water skiing, table tennis, football and rugby, we have excelled at squash for the Group team achieved a very praiseworthy result by finishing third in the Singapore Squash Rackets League, winning 7 of their 10 matches. Two members of the team, Capt
Lewis-Jones
and Lt
Denham
represented Singapore District several times and Lt
Denham
represented Singapore in the FARELF Championships in Hong Kong. The Groups team consisted of Lt Col
Goss
, Capt
Lewis-Jones
and Lt
Denham
.

Corps day celebrations this year were a particular success. A family outing by boat to Snake Island and a Swimming Gala at Dover Road Pool were topped by a vigorous and highly enjoyable All ranks' Dinner Dance held at the Republic of Singapore Yacht Club at Sungei Jurong.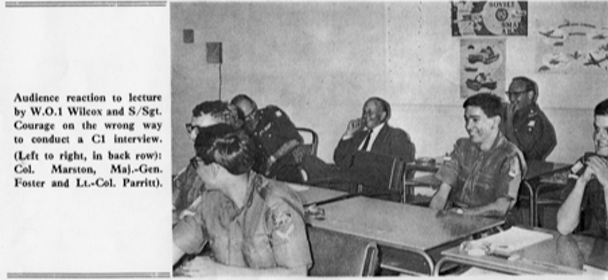 NEWS FROM SINGAPORE
We hope that the not infrequent "Keep Singapore Clean" campaigns have had nothing to do with it but departures this year have been too fast for re-supply. We hope to catch up again by Christmas. In the meantime our new OC, Maj
M Liley
, who took over from Maj
R M B Walker
in December, 1968, goes mad fitting faces to places to faces. The "in" cries for 1969 were "rotation" and "cost effectiveness" – well, he started it!

Operationally we had a busy year, with all ranks being able to use their special skills most of the time. Those who have left us after a long hard struggle will be please to know that at last we are now well ahead of "the programme" and people can even take leave, if they can get it in before the education programme blossoms.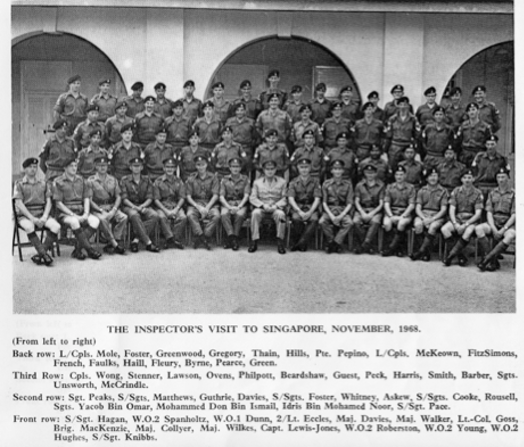 We have suffered the usual lengthy absences of "vital" members of the Company on Corps and language courses; most successful. Several members of the Company took part in some locally organised over-night treks at the end of last year, and in January L/Cpl
Greenwood
attended a week-long combat survival course while Cpl
Byrne
became the Company guinea pig on the two-week introductory jungle warfare course. Despite the latter's cries of "it was rugged", his enthusiasm for it encouraged 2Lt
Eccles
, Cpls
Beardshaw
and
Harris
and L/Cpl
Cave
to attend the next in July. All are now clamouring to do the six-week course. We managed to get Sgt
Bryan
on a week's course at the Australian SMI which he followed with two weeks leave, and we are still trying to get him to write an article about it. The Bde Int Support Sections have been well occupied with exercises during the year, boosted where possible from the rest of the Company. The promise of a last minute article for the Journal persuaded us to spare Cpl
Harris
to join 99 Bde Int Sp section in an ascent of Mt Kinabalu in Sabah this month, and Sgt
Luttrell
joins the Cdo Bde Int Sp Section next month for two weeks jungle bashing in Malaya.

At the end of last year the huts occupied for so long by the Corps (since 1951 in fact) finally began to split at the seams. This, plus the fact that the rough track, which passed within ten yards of the sleeping accommodation in 1974, is now one of the main dual carriageways in the island and not conducive to that deep satisfying sleep so necessary after a dusk to dawn surveillance decided us to move. The biggest blow was the resultant closure of our Sergeants' Mess, but the move has given us extremely good accommodation within REME Admin Unit lines, peace and tranquillity when the OC and CSM are away and frangipani, hibiscus and bougainvillaea when the gardeners stop pruning them.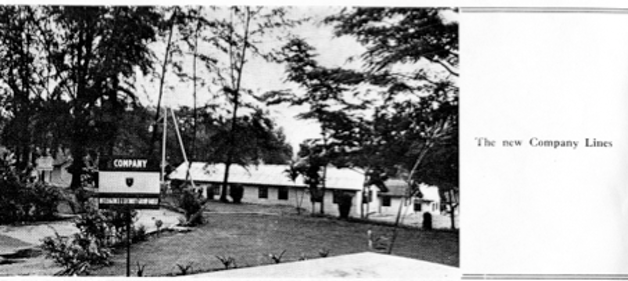 The closure of the Mess gave us the opportunity to present a silver cigarette box to the Sergeants' Mess HQ Intelligence Centre and to form the Intelligence Corps Club, Singapore, in our new lines. The aim of the Club is to provide a permanent meeting place of all ranks of the Corps in the island and any members of the Corps passing through can be sure of a warm welcome. The very loyal support of all ranks here has allowed us to keep subscriptions to the minimum and yet retain a full-time barman. We have already had a considerable number of most successful "do's" and we look forward to many more. The Club also provides a most useful goal at which to aim our visitors, among whom, so far, were the Army Commander, Lt-Gen Sir
Peter Hunt,
KCB, DSO, OBE, in April, the BGS HQ FARELF, Brig
T I G Gray
in July, and the Colonel GS Int, Col
H H M Marston
, MC, on several occasions. As was only fitting, our last senior visitor in our old lines was the Inspector of Intelligence, in November, 1968. Whilst here the Inspector presented WO2
Robertson
with his well earned LS & GC.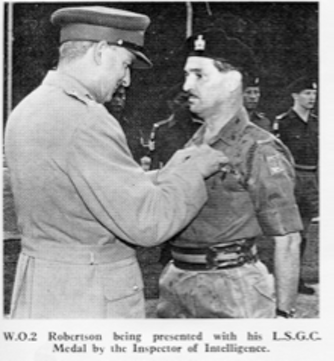 Shortly after the arrival of WO2
Hughes
in April, when WO2
Robertson
left us after three years (and three changes of OC!) for, we hope, a quieter life in Chester, the OC decided to get fit. This, of course, meant all of us! We are lucky to have two swimming pools each about two miles away, on either side of the new lines, so that the twice weekly early morning run can at least culminate in "coolth". In spite of the groans they cause, we suspect certain subversive elements secretly enjoy them, and some, normally excused for duty, have even been known actually to ask to run.

Other activities include participation in practically all of the astonishingly varied sports and hobbies available here, from the gentlest, Yoga (though the OC has only once actually been seen standing on his head in the office), to the roughest, Tae Kwon Do (Cpl
Hills
), several members of the Company have now achieved a "C" helm or higher in the sailing club, all the Cmdo Bde Int Sp Section are well on the way to skilful water skiing on one ski and rally driving is fast gaining a popularity.

The OC is still trying to reconcile the number of vehicles "bent" on duty with those returned from various rallies in better condition than when they left! Our star members are S/Sgt
Rousell
and Sgt
Bryan
, who recently achieved a 2
nd
– Newcomers Award, in the BP South Malaysia Rally over 600 miles in South Johore and have won four cups and a cheques. S/Sgt
Rousell
also shared a Sunbeam Rapier in the 1,800 mile Vientiane-Singapore Asian Highway Rally, finishing 3
rd
in class, followed a little later by Lt
Parr
in a rather sorrowful Sunbeam Tiger sponsored by Tiger Breweries, who also sponsored the breakdown truck that carried him in! Sgts
Bryan
and
Unsworth
complete the list with a 7
th
in class in a South Johore Rally and interest is growing to such an extent that we hope in future to avoid any further mishaps on duty in order to have a better selection available for rallies!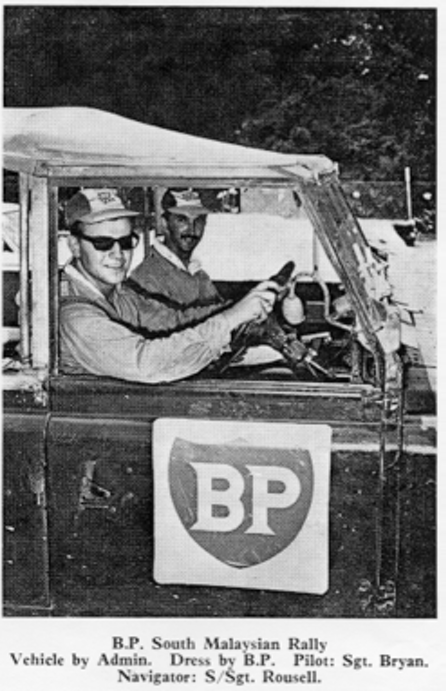 The latest plot afoot, the OC, Combined Records Office, the powers that be and a hundred and one others being willing, is for a party of three to drive home overland.
We celebrated Corps Week in conjunction with Gp HQ. Finally, a word on arrivals and departures. We have had too many to name individually, since over twenty have left us since last year, nearly all now replaced. However, we must record the departure of one of our oldest hands, Sgt
Mohd Don
, who retired to Malaysia in July, but are very glad to say that Sgts
Idris
,
Yacob
and
Wong
still soldier on with us, recently joined by Sgt
Adnan
. We doubt that WO2
Spanholz
, who also left us in July, can possibly get in yet another tour with us before we too retire. Mr
Dahran
, with us since 1948, retired to India in the spring and Miss Hancock regrettably left us in July to explore Australia. Mrs Rose still gives us wonderful support on her typewriter and we hope to find her an accomplice in the near future! We congratulate Sgts
Whitney
and
Luttrell
, Cpls
Peck
and
Faulks
and L/Cpl
Pepino
on their respective marriages, and welcome the new sons and daughters of Sgt
Idris
, Cpls
Hills
and
Jones
and L/Cpl
Cave
. 2/Lt
Eccles
got himself engaged and Cpl
Lawson
and L/Cpl
French
's wedding plans are well advanced. Altogether a very happy, successful and fruitful year.

The start of the 1969 season saw the Intelligence Corps football team sadly missing the services of S/Sgt
Conway
and Sgt
Palmer
, both of whom had moved to pastures new. The team started the season rather disastrously with a 7-2 defeat by FETC, our only goals being scored by 'Dixie Dean'
Lawson
and 'Stanley'
Rousell
. However, full retribution for this game was taken later in the season with a 2-0 victory. As the season progressed the team improved and with only two games to play appears assured of fifth place in the league, although having had no success at all in the Cup. Current statistics are: played 14; won 6: drawn 0; lost 8; goals for 24; goals against 35; points 12.

Special mention must be given to Cpl
Fitzsimons
who, besides being the team's star player, has held a regular place in the Army XI and has been selected for the Joint Services team. Those who have followed the record of the team over the past two seasons will probably be surprised to hear that 'Twinkle Toes'
Ovens
has so far failed to break his own record of the most own goals in any season.

Lt Col
Goss
turned out for his last game for the team only two days before his departure for UK and was very unfortunate to break his wrist in the first five minutes of the game. We got our revenge 3-0 but this practice is not normally recommended for success!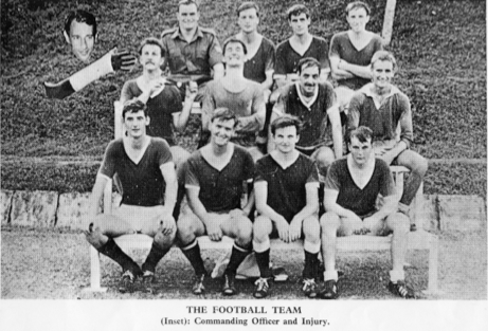 A Lt Col
Goss
Memorial match played the following week between the Officers/Warrant Officers and a few SNCOs (The Elite) and the rest (The Rabble), revealed the upper echelons all too ready to do battle. The final score was 6-1 to the "Rabble" after a very hard game which resulted in enough injuries to prevent the Corps being able to provide a full team for their next league fixture.

The team has also this season seen the last performances of 2/Lt
Eccles
and Sgt
Peaks
, who spent as much valiant effort and far more time off the field than on, getting teams, transport and kit together from our far-flung "empire". Sgt
Unsworth
and Cpl
Fitzsimons
are also moving on, but the team continues under the capable leadership of Sgt
McCrindle
next season. We wish them the best of luck.
NEWS FROM MALAYA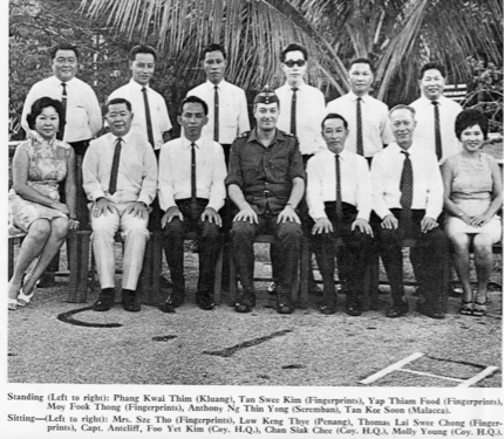 The past year in East Malaysia (Malaya to the old school) has provided a fairly large turn-over in personnel and at the time of writing 9 Company have just received a new OC, 2 i/c and CSM, namely Major
Ball
, Lt
Dixon
and WO2
Robinson
. Major
Geoff O'Neill
left the Company in February this year and emigrated to Australia. At a Company farewell party he was introduced to an evening's acclimatisation by having a ball and chain fastened to his ankle, the key to which was deposited with the DAPM for safekeeping.

Capt
Antcliff
departed in August for UK, WO1
Adams
in September for BAOR. Also to BAOR over the year have gone S/Sgt
Adamson
from Penang, S/Sgt
Greenfield
from Kluang and S/Sgt
Newark
to UK. We welcome to the Company Major
Ball
, 2Lt
Cummings
, WO2
Robinson
, SSgts
Hollis
,
Burkin
and
Boothman
, Sgt
Holland
and L/Cpls
Brookes
,
Jones
,
Putwain
and
Yates
. The Company have provided a number of actors for the Seremban Garrison Players in various roles. Cpl
Fleury
, despite warnings of PV withdrawal, appeared as the pantomime dame in "Babes in the Wood" last Christmas and Cpl
Collett
and L/Cpl
Brookes
starred in "The Boy Friend" which was an all singing all dancing musical. No offer has yet been received for their appearance on Broadway, however, Cpl
Fleury
has recently been posted to the 1971 Joint Exercise Planning Staff in Kuala Lumpur.

In the near future the withdrawal from Malaya begins and we start to lose the civilian staff which has served the Corps for many years in FS Sections, FS Wing Malaya, CI Platoon and Int Platoons in Malaya, and finally 9 Company Int & Sy Gp (FE). It is with regret that we have to announce the death of one of our old-timers,
Larry Tan
. Larry, who has been working for the Corps since 1946, died in April this year and was buried in his home town of Penang. The funeral was attended by the OC, Capt
Antcliff
, and the Penang Detachment Commander, WO2
Robinson
. A wreath was sent on behalf of all ranks of the Intelligence Corps.

Four members of the civilian staff were presented with Commander-in-Chief's Testimonials, all four having served with the Corps for over 20 years. The recipients were Mrs
Sze Tho
and
Thomas Lai
who are employed as fingerprint searchers in the Criminal Records Office in Kuala Lumpur, and Mr
Chen
and
Low Ken Thye
from Company HQ and Penang detachment respectively.

Finally, as this is possibly the last time we shall have all our civilian staff before the withdrawal begins, we would like to thank them, on behalf of the numerous Intelligence Corps personnel who have served in Malaya, for their loyal service to the Corps.