The Rose and The Laurel - 1970
GROUP HEADQUARTERS
With the closure of Group Headquarters at Winchester Road, Alexandra Park, on 15
th
October, 1970, the brief life of the Intelligence and security group FARELF, established as such on 3
rd
November, 1966, ended. Appropriately, our final visitor was The Inspector of The Intelligence Corps, Brig
Richard
Bremner
, who on his way to Hong Kong saw the Headquarters before disbandment, and 8 Company, in mid-October. There is little doubt that in its concept and practice the FARELF Group has been a particular success and its passing must therefore be regretted.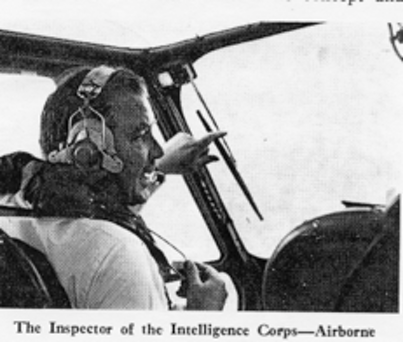 Before Lt Col
Parritt
, the present Commanding Officer, the Group and its early embryo organisation in Singapore was commanded by (then) Majs
Dunkley
,
McGowan
and
Cole-Mackintosh
, followed by Lt Col
Goss
. After 9 Company's disbandment in August, 1970, two elements of the Group soldiered on. 10 Int & Sy Company in Hong Kong became independent on 1
st
April and 8 Company, at its location in Rowcroft Lines, off the Ayer Rajah Road, will also gain its independence on the disbandment of the Group. 8 Company will come under the administrative direction of a newly-formed Headquarters Singapore Area, on 1
st
November, 1970.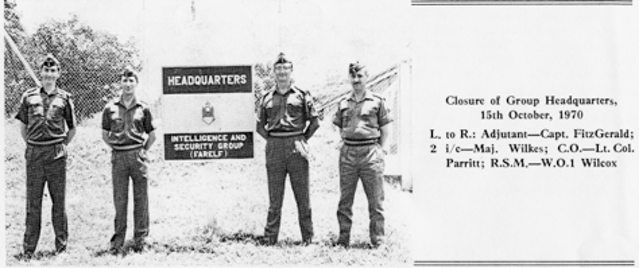 Our final year has proved to be no less hectic than previous ones. It started with the analytic rigours of an annual administrative inspection and, as well as the normal day to day A and Q routine, we have carried out a very full training programme. (It is worth mentioning that since 1959 the Headquarters training element has conducted approximately 130 full-time courses of varying type for over 1.050 students.) Additionally, we received our full quota of visitors, including the Director of Security, Maj Gen (Retd)
N L Foster
, and the FARELF Army Chief of Staff, Maj Gen
W B Thomas
. Corps day, 1970, was celebrated with a highly enjoyable all ranks' cocktail party at the Gap Hostel, and to which many of the friends of the Intelligence Corps in Singapore were invited as guests. An evening "swim in" also was held at Dover Road swimming pool which was very well attended.

For the record, brief mention is made of departures and arrivals. Maj
Collyer
, our Second-in-Command and Chief instructor, returned on promotion to the Intelligence Centre in March. Our congratulations go to him; his unfailing sense of humour, particularly in moments of stress, are missed. We welcomed as his replacement Maj
Wilkes
from HQ FARELF who stoutly extended his tour for a further six months. In the middle of the year Cpl
Ellam
decide to return to civilian life and Cpl
Thain
returned to the Depot before onward posting to 16 Parachute Brigade.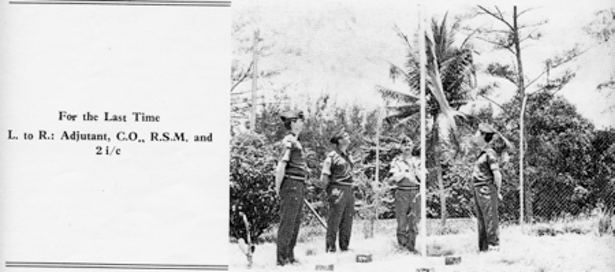 At the time of writing, the final dispersal of personnel has started. The CO having already relinquished his appointment as GSO 1 (Sy) on 1
st
August, has now become AA & QMG (Stats & Records) HQ FARELF. The 2 i/c returns on leave to Wales in mid-October. The RSM WO1
Wilcox
flies back to London to complete a business management course in early October before joining his family in Ontario, Canada, having completed his Army engagement. We particularly wish him every success in his new life there. Capt
Fitzgerald
, the Adjutant, remains to command the rear party before taking up his new appointment as Staff Captain "a" at HQ 19 Airportable Brigade, Colchester, in January. S/Sgt
Courage
, recently a father, leaves us to join 12 Detachment in Hannover. S/Sgt
Pluck
, RAOC, our stalwart Chief Clerk, joins 8 Company and Cpl
Allen
, RAOC goes on posting to 3 BOD in Singapore. L/Cpl
Firman
, our RE draughtsman, although going to HQ FARELF temporarily, has applied to transfer to the Intelligence Corps and we hope to see him at the Depot in July. Pte
Nutt
, who has only just joined us from the Depot, will shortly join the Intelligence Support section of the new two-star Headquarters in November, together with WO2
Wright
and Cpl
Kerr
from Security Ops. The CO's driver
Khoo Fook Seng
, and Pte
Mustaffa
leave us on posting to BFBS and 3 BOD respectively. Our shorthand typist and confidential clerk, Linda Greggor and Sally Scrutton have already returned to the United Kingdom. Diana Tobias, our typist, has now left us but remains in Singapore until July 1971. Our veteran tea masher,
Teo
, goes on to work for the BMH in late October.
The flag is lowered and the crates are packed. Our existence in Alexandra Park will soon only be in the collective memories of many of the serving and past members of the Corps.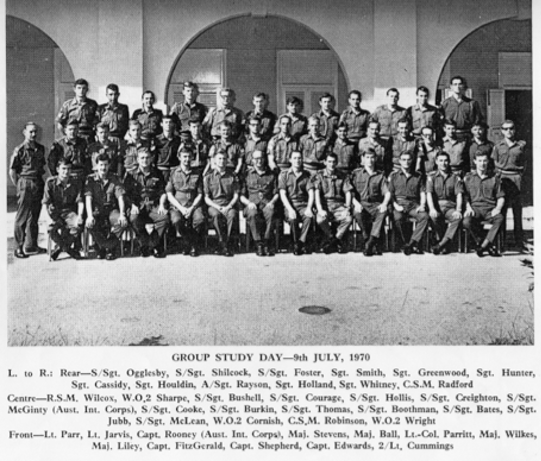 NEWS FROM SINGAPORE
It does not seem twelve months since we last wrote our notes from the Lion City. Events – social, matrimonial, adventurous, sporting and official have crammed our calendar and it's not surprising that the year has flown by so quickly. An event which gave us all great pleasure was the visit of Lt Col
Peter Gray
, MBE, in October, 1969. Everyone took the opportunity of getting in their bid for a good posting and Lt Col
Gray
spent two days discussing individual problems with the understanding and kindness we have come to expect of him. We hope he enjoyed his stay with us.

Another most welcome visitor was Col
H W B Hancock
, MC, Chief Instructor, Int Centre, who stopped in Singapore in early 1969, on his way to other outposts. He visited the Company briefly and met a number of old friends.

The annual administrative inspection, 1970 style, started with the Company on parade in hollow square for the presentation of the Long service and Good Conduct Medal to S/Sgt
Horne
by Brigadier
G E Bavin
, Chief Transport Officer, FARELF. Thanks to the Adjutant's brilliant staff work, the medal got to us in time. The standard of turnout and drill was a credit to CSM
Hughes
, whose swan song this was, and wives and families watching commented on their difficulty in recognising their nearest and dearest in uniform!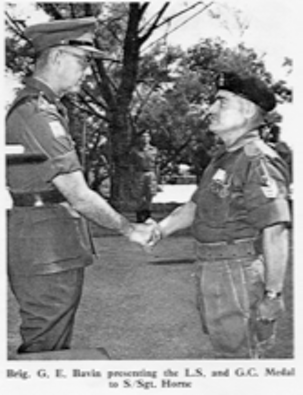 On 23
rd
February, 1970, Maj Gen Tyacke, GOC Singapore District, visited us to bid farewell. The General had many units to visit that day but took time to speak to the Company and locally employed civilian staff. He made a point of thanking the civilians for their long and loyal service to the British Army. Three of our civilians, Messrs
H
ong Hing Ming
,
S M J Fernando
and
Mohd bin Jantan
were presented with the Army Commander's Testimonial on 15
th
July, 1970. All serving and past members of the Corps who know
Hong
,
Fernando
and
Jantan
will join with us in congratulating them on their well deserved awards.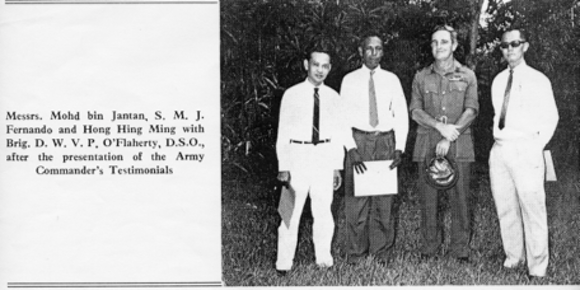 The event of the year which really hit the headlines was the departure on 20
th
May of the "Overlanders", S/Sgt
Rousell
, Sgt
Bryan
and Cpl
Harris
. They had put in a lot of effort, kindly aided by CRO and Int Centre, to plan their journey by sea and road from Singapore across India, Afghanistan, Iran, Turkey, Greece, Yugoslavia, Germany and France to arrive in Ashford on Corps' Day. By all accounts their 1961 Sunbeam Talbot behaved impeccably and their achievement is the envy of us all. We look forward to reading the story of their journey in the Rose and Laurel. A few days before leaving, Sgt
Bryan
married his charming Hela who has our admiration for cutting short of the honeymoon and allowing him to set off as scheduled. We thoroughly enjoyed their wedding and reception and wish them every happiness for the future.
Others of our number to marry recently were Cpls
Lawson
and
French
who, after many alarms and signs of disapproval by the "movers" managed to get back to England in time for their weddings. We were delighted to welcome sandy and Cheryl to Singapore and the Corps. It is rumoured that we will next be able to report one or two further nuptials in our next notes.

Increases in families have been contributed by Jeanette
Boothman
, a daughter; Isa Maclean, a son and Stella
Faulks
a daughter. Our congratulations to them all.

Corps Day celebrations this year were once again jointly held with Group Headquarters and G Security. An all ranks lunchtime party was held at the Gap Officers' hostel to which all Corps members invited their official military and civilian guests. This proved to be a most enjoyable and successful party and considerable favourable comment was made to the effect that only the Intelligence Corps could have made a success of such an occasion. In the evening the Intelligence Corps Club held an informal party at Dover road swimming Pool for our closer friends where we sampled a selection of Chinese, Malay and Indian foods. During the evening a collection in aid of the Corps Museum Appeal was made and S/Sgt
Bates
delighted us with a demonstration of high board jumping while fully clothed, clutching a bunch of rumbutans. Repeated requests for an encore were turned down, but none the less a useful collection was made.

The Colonel Commandant's Museum Appeal Fund is very much in our minds and the Club, whose membership consists of all Int Corps personnel in Singapore, has been organising functions in support of the Appeal with the most able and loyal help of the Wives' Club. We hope by the end of the year we will have collected a useful sum of money for the fund.

Our thanks for their hard work in the redecoration of the Club and organisation of functions go to CSM
Radford
, WO2
Sharp
, SSgts
Rousell
,
Foster
,
Horne
,
Bates
,
Thomas
and
McGinty
(Aust Int Corps attached to us since the beginning of the year) and Sgt
McCrindle
. Sterling work in laying on film nights has been done by Cpls
Byrne
and
Ashcroft
, whose services were also in demand throughout the length and breadth of Singapore. We are fortunate in having a number of trained projectionists in Sgt
Adnan
, RAOC, Cpls
Scampton
and
French
and L/Cpls
Rippon
and
Weston
, who have all done their bit.

Trained jungle bashers (Cpl
Saunders
, our resident BAR contributor, is currently on the long Instructor's Course), unarmed combat enthusiasts, financial wizards and members of the Royal Life Saving Society are but a few of our accomplishments due to the OC's insistence on placing a bid for practically every course in the FARELF Courses handbook, much to the horror of the 2 i/c and CSM who have great difficulty interpreting the "Events Board" which is beginning to look like an abstract Picasso.

From May to July we had the pleasure of the company of old friends from 19 Bde, here for exercise "Bersatu Padu" (Perfect Unity), and exchange visits were made to each others Messes which resulted in at least one casualty! Apart from the Int Sp Sect with HQ 3 Cdo Bde RM, Lt
Parr
,
S/Sgt
Shilcock
, Cpls
French
and
Pearcey
, RE, our involvement with the exercise was limited. Those who did attend benefited from their enforced absence from the delights of Singapore and returned bright of eye and straight of limb.

The OC's efforts in keeping the Company fighting fit have continued throughout the year and have consisted of two mornings a week of violent exercise, which although painful at the time has helped to keep most of us reasonably trim. Leading lights at these morning sessions have been the CSM (swimming), Sgt
Wong
(basketball), WO2
Sharp
(squash), Sgt
Whitney
(cycling), L/Cpls
Caulfield
and
Pepino
(unarmed combat). The remainder, with the exception of the 2 i/c who stays behind to answer the telephone, have concentrated on running led by S/Sgts
Ogglesby
,
Foster
,
Creighton
, Sgts
Holland
(who also hashes with L/Cpl
Brookes
), and
Ward
. Our golfing fraternity under the leadership of S/Sgts
Maclean
,
McGinty
and Sgt
Greenwood
is also growing and there are moves afoot to use one of the weekly morning training periods for golf practice.

CSM
Radford
, S/Sgts
Rousell
and
McGinty
, Sgts
Bryan
and
Smith
and
Cpl Lawson
have been active in motor rallying.
The soccer team had a good start to the season but midway the pressure began to tell, with injuries, exercises and posting upsetting the balance of the team. We are currently seventh in a league of thirteen with little chance of improving our position in the one or two matches remaining. However, due to the rundown, the number of divisions in the league have been reduced and we have had to play far more potent teams than last year. Our star player is Pte
Gordon
whose selection for the Army side has made him an able successor to Cpl
Fitzsimmons
who left us earlier this year for a civilian life and a trial for Oldham Athletic. We'd be delighted if he would write and tell us how he got on. Detailed notes on the soccer team appear below but we cannot close this brief introduction without a special thank you to Sgts
McCrindle
,
Ward
; Cpls
Ovens
and
Ashcroft
and L/Cpl
Weston
who have turned out for every match, and Sgt
Luttrell
for his guts and determination. Special thanks are also due to our "guest stars" Mr Arbuckle of BP and Cpl
Allan
, RAOC, honorary members of the Int Corps Club, and most reliable and entertaining footballers.

Our cricketers managed to get in a few games by combining with RE Singapore whenever Lt
Jarvis
could release S/Sgt
Thomas
from the central depositories of FARELF!

In July we were sorry to say goodbye to the remnants of our sister Company in the Group, 9 Coy, in Seremban. We were, however, delighted to welcome from their number WO2
Robinson
, S/Sgts
Hollis
and
Boothman
, Sgt
Houldin
, Cpls
Jones
and
Croker
, and L/Cpl
Brookes
. WO2
Robinson
and L/Cpl
Brookes
arrived in Singapore be sea from Port Dickson in the former's boat after a hairy trip, which is another story we hope to read about in the Rose and Laurel. CSM
Robinson
has so far only had one travel claim for the journey returned and the battle continues. The departure of 9 Coy has meant that our parish now includes such delightful places as Penang and the Cameron Highlands, which must be visited frequently, in addition to Bangkok and Brunei. S/Sgt
Creighton
has been busy learning Thai and has already visited Bangkok three times this year. Readers who know Johore Bahru will be interested in the move of the JB Detachment office from Jalan Yayah Awal to a most luxurious bungalow in the Garrison Headquarters complex at 2 Jalan Ruh where S/Sgt
Cooks
is in residence.
At the time of writing Cpls
Marsan
,
Mulgrew
and
Scampion
are at the Int Centre attending the A1 course and Trade Test which we are sure they will complete successfully – we are looking forward to their return in November. Sgt
Hunter
and Cpls
Berry
and
Cave
continue to represent us in the rarified air-conditioned atmosphere of DIS FE but we still manage to see quite a lot of them at Ayer Rajah Road.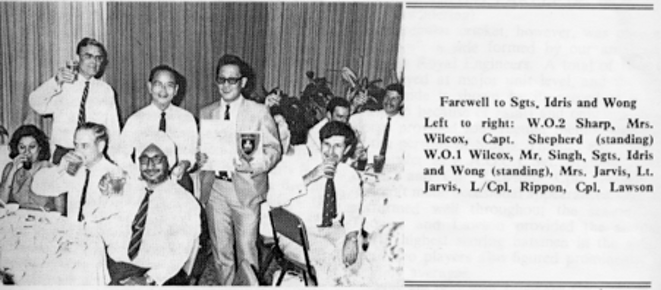 Those who have served in Singapore will be sorry to hear that Sgt
I
dris
left the Army in September after 22 years service of which 16 was spent with the Corps. Sgt
Wong
also leaves at the end of the year. We dined them both out at the Golden Crown Restaurant on the 11
th
of September when 40 plus sat down to a delicious ten-course Chinese dinner. Sgts
Yacob
and
Adnan
serve on and we hope they will be able to remain until the end. Many of the locally enlisted NCOs of the Corps would have reached much higher rank if they had been prepared to transfer out in the past, and our sincere thanks goes to all of them for their loyal service and the valuable continuity they and their civilian colleagues have provided over the years.

These notes will be the last we write as a Company of Intelligence and Security group, FARELF. Group Headquarters closes in October and we are reminded that we only have another year to serve in Singapore, ending a long Corps presence on the Island which started in 1945 when the FS Section of the day was located in four tents in Balmoral Road and had two Japanese POW on strength.

Rallying continues to be popular in the Coy. The high spot was reached in March when three vehicles were entered for the Clover Leaf Rally, crewed by Sgt
Bryan
and S/Sgt
Rousell
, Cpl
Harris
and WO2
Radford
, and S/Sgt
McGinty
, Aust Int Corps and Sgt
McCrindle
. The team came second, while Sgt
Bryan
came first in class and fourth overall. The next rally was the KLM sponsored Malaysia Rally. Two vehicles were entered, but one, crewed by S/Sgt
McGinty
and WO2
Radford
unfortunately turned over on the way up to the start at Kuala Lumpur. No serious injuries were incurred but S/Sgt
McGinty
has entered civilian vehicles since then. The other vehicle with Cpl
Lawson
and Sgt
Smith
, both on their first rally, went on to finish successfully. The success shown in last year's BP South Malaysia Rally was not matched this year when two vehicles in the joint Int Corps, Jungle Warfare School, REME, team were excluded for being overtime, as were all but three Land-Rovers on the rally. For the future more drivers and navigators are to be trained and it is hoped that the second unit Land-Rover will again be entered in future rallies.

The Company football team has not enjoyed a particularly successful season after some fine performances in the opening games. This was not due to lack of effort or enthusiasm for the game, but because most of our footballers were posted.

In the opening match we took two points from 31 Sqn Gurkha Tpt Regt, beating them five-nil. Following this, the team earned themselves the reputation of "Giant Killers" by beating the two major teams in the division, Command Pay Office and Singapore Guard Regt, in successive matches. Command Pay Office, a very strong team with three Army players in their side were beaten two one, both our goals being scored in the first half. Singapore Guard Regt were two nil in the lead at half-time but, urged on by the CO, OC and many other supporters, the team produced a fine spurt of four goals in the last 20 minutes resulting in a very excellent four two win. The team also enjoyed several other successes but, unfortunately, they were interspersed with a few lost and drawn matches.

We were entered for both the Major and Minor Units cups but had the misfortune to meet first division opposition in both instances. In the Minor Units event, 59 Fd Sqn, FRE, soundly defeated us 8-1 and, in the Major Units cup, 1 / 2 Gurkha Rifles defeated us by two goals to nil.
The team is currently preparing for the SDAFA six-a-side tournament by carrying out a training/selection programme in the hope of producing a comparatively strong team so that, once again, we can make a bid to restore our old title of "Giant Killers".

Personnel involved in the Company's footballing activities this season are as follows:

Football Officer: Capt
R R K Shepherd
. Players: S/Sgts
Ogglesby
and
Thomas
; Sgts
McCrindle
,
Ward
and
Luttrell
; Cpls
Ovens
,
Lawson
,
Allan
and
Ashcroft
; L/Cpls
Pearcey
,
Weston
,
Caulfield
and
Rippon
; Pte
Gordon
(Capt); Mr
Arbuckle
.
We were unable to raise a Corps cricket team for the 1970 season, but the few fanatics we had, managed to enjoy a very full season by representing a variety of sides, including the Army, REME, and G Branch in HQ FARELF inter-department matches (Cpl
Lawson
's lightning three-hour attachments to HQ FARELF Det on match days were bewildering).

Our regular cricket, however, was played with "Gillman", a side formed by our amalgamation with the Royal Engineers. A total of 18 matches was played at major unit level, and the strength of the side is shown by its record of 8 wins, 9 draws (6 because of rain!) and only one loss. The Corps provided four regular members of the side in the persons of S/Sgts
Thomas
and
Pace
(prior to transfer to RAOC), Sgt
Bradley
, Aust Int Corps and Cpl
Lawson
. Cpls
Mulgrew
and
Ashcroft
made occasional appearances. Our players performed well throughout the season, and in Thomas and Lawson provide the second and fourth highest scoring batsmen in the side. The same two players also figured prominently in the bowling averages.

Plans are now well advanced for a "Gillman In Exile XI" for the next season which will find the intrepid batsmen
Thomas
and
Lawson
dodging the showers in UK.
NEWS FROM MALAYA
By the time you read this 9 Company will have disbanded. Only the Penang Detachment will survive the effects of the 1970 programme of the rundown in the Far East. The 17 Division and 28 Brigade Intelligence Support Sections were the first to disband, then S/Sgt
Coombs
' detachment in Malacca in March when Terendak Camp was handed over to the Malaysian Army. The Kluang and Seremban Detachments will close in July and finally Company Headquarters will disband in August, when the Penang Detachment becomes part of 8 Company. It is fitting that the Penang detachment should remain, even if only for another year, as the last representative element of the Corps in West Malaysia. So far as we can ascertain the first Corps Unit in Malaya after the war was 789 FSS which landed in Penang in September 1945.
The last representatives of 9 Company, CSM
Robinson
and L/Cpl
Brookes
, will be carrying out a seaborne withdrawal to Singapore from Port Dickson. The preparations for this hazardous expedition are now being made by the "Skipper and Bosun". The CSM's cabin (sic) cruiser Tarka, having been scraped, plugged, virtually rebuilt, painted and varnished with the most loving care and a great deal of hard work by the owner, she is expected to be launched at Port Dickson shortly, it being desirable to find out in good time before the day appointed for the withdrawal whether or not the thing actually floats.

The Company has had a very full year, rundown especially having increased the workload; only now (June) has the pace begun to slacken. We have been involved in one field exercise in Upper Perak in late '69, and elsewhere in the Journal is an account of the CSM's experiences on the East Coast during exercise "Bersatu Padu". Company Headquarters and one representative from Kluang – Cpl
Jones
– tackled Mount Ophir (4,187 ft) recently. Some of us got to the top but some of us didn't – well, Lord Hunt didn't get to the top of Mount Everest, did he? If the truth be told we underestimated the problem and over- estimated our own stamina and fitness but "better to have tried and lost, etc".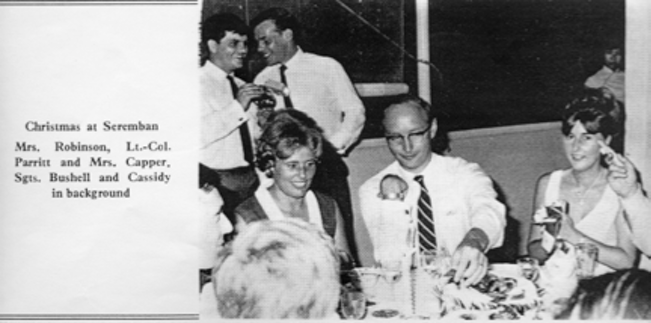 It has never been easy to collect the Company together for either work or play; there are 400 miles between the S/Sgt
Boothman'
s detachment in Penang and S/Sgt
Bushell
's detachment in Kluang, and Seremban is inconveniently over an hour away from the two airports which serve the town. However, we had to have a Christmas party and we combined it with a farewell to our civilian staff and the Malacca Detachment. It went off very well, though not all of us were quite as sober as the Colonel looks in the photograph.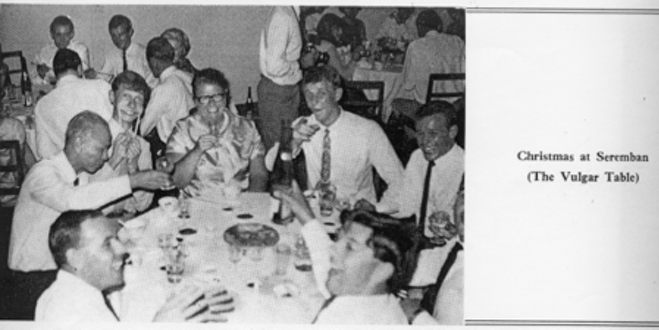 It is appropriate to record here our appreciation of the work of Malaysian members of the Company. They have served, the Company, and FS Malaya in it various guises, with the greatest loyalty and efficiency for, in some cases, over 24 years. We part company as a result of rundown; we hope that their memories of service to the British Army and to the Corps are happy ones and that the future will be at least equally happy for them in whatever walk of life they establish themselves.